In the vast expanse of the Astar Network galaxy within the Polkadot cosmos, Starfish Finance emerges as a leading Entertainment-Fi platform, orchestrating a multichain gamified DeFi playground. Incubated by the Astar Network program, Starfish Finance has set sail with TVL over $1.12m, a testament to its burgeoning presence in the Web3 ecosystem.
Pillars of Starfish Finance
Drawing inspiration from the Balancer V2 model, Starfish Finance's architecture revolves around three core pillars: stablecoin liquidity pools, cross-chain DeFi, and NFT finance. Positioned as a vital satellite in the Astar Network, a key constellation within the Polkadot galaxy, Starfish Finance embarks on a journey to redefine decentralized finance and non-fungible tokens convergence.
Key Features
Starfish Finance, audited by Certik and proudly listed on platforms like Huobi and AscendEX, boasts an array of features designed to cater to the diverse needs of the Web3 community:
Swap (Astar Network): Facilitates seamless token and stablecoin trading on multi-token pools.
Liquidity (Astar Network): Enables users to provide liquidity or create pools comprising up to eight tokens, sharing trading fees.
Farm (Astar Network): Stake Liquidity Pool Tokens to earn bonus rewards.
Stake (Astar Network): Stake SEAN to earn USDC stablecoin and unlock access to the upcoming Seabed Launch.
$DOT Liquid Staking (Astar Network): Stake DOT to earn sDOT and additional rewards.
Games (Arbitrum One & Astar Network): Pioneering Entertainment-Fi, Starfish Finance gamifies DeFi, offering a state-of-the-art gaming experience.
Seabed Launch (coming soon): A platform for Initial DEX Offerings (IDO) and Initial NFT Offerings (INO).
StarfishDAO (coming soon): A decentralized autonomous organization empowering the community in governance.
Highlighting Starfish Finance
Multi-token Pools with Leading Stablecoins: Starfish supports liquidity pools with up to eight customizable-weighted tokens, enhancing flexibility and risk management. Users can maximize profits on Starfish's stablecoin liquidity pools, including major coins like USDT, USDC, and DAI.
Cross-Chain Liquidity Efficiency: Through strategic partnership with Celer Network, users can seamlessly connect their crypto assets across different layer-1 and layer-2 ecosystems within the Polkadot framework.
Cross-Chain NFT Lending and Borrowing: Starfish Finance enables users to securely lock their NFTs on their native chain, allowing them to borrow different crypto assets on the Astar Network without compromising security.
StarfishDAO Empowering Community Governance: Starfish Finance is transitioning from centralized control to a community-driven governance model. SEAN token holders can stake their tokens to earn veSEAN, gaining proposal rights and voting privileges on critical decisions.
NFT-Fi: NFT holders can utilize Starfish Finance to collateralize their assets for instant liquidity. The platform ensures quality by screening NFTs for eligibility as collateral.
StarfishGame: a new branch developed to offer entertainment, opportunities for significant rewards, and new use cases for the $SEAN Token.
The Prediction Market – V1 | Currently on Arbitrum One & Astar Network
The Prediction Market is a decentralized platform enabling users on Starfish Finance to speculate on the price movements of a specific token (e.g., $BTC).
Similar to Prediction on PancakeSwap.
Coin Flip (New game) – Ver1 | Currently only on Arbitrum One
In this game, a player simply chooses heads or tails to receive rewards or test their luck in subsequent games.
The allure of the 50-50 chance forms the foundation of all games. The result is binary: if the player wins, the reward, along with the initially committed funds, is automatically sent to their wallet. Otherwise, the player can move on to the next round to try their luck.
Tokenomics: SEAN Token
Blockchain: Astra/Ethereum/Arbitrum
Total Supply: 1 Billion SEAN
Circulating Supply: 125.06 Million
Market Cap: $291,862
Trading on: Huobi, AscendEX, Uniswap
Token Use Cases:
Staking cSEAN for a share of trading fees in stablecoins.
Participating in NFT auctions during liquidation events.
Staking sSEAN for access to Seabed Launch events.
Voting and exercising governance rights in StarfishDAO.
Engaging in Starfish games for rewards.
Road Map
Celebrating 1 year of Starfish's journey. From their humble beginnings to now, it's been an incredible ride. Here's to many more milestones ahead!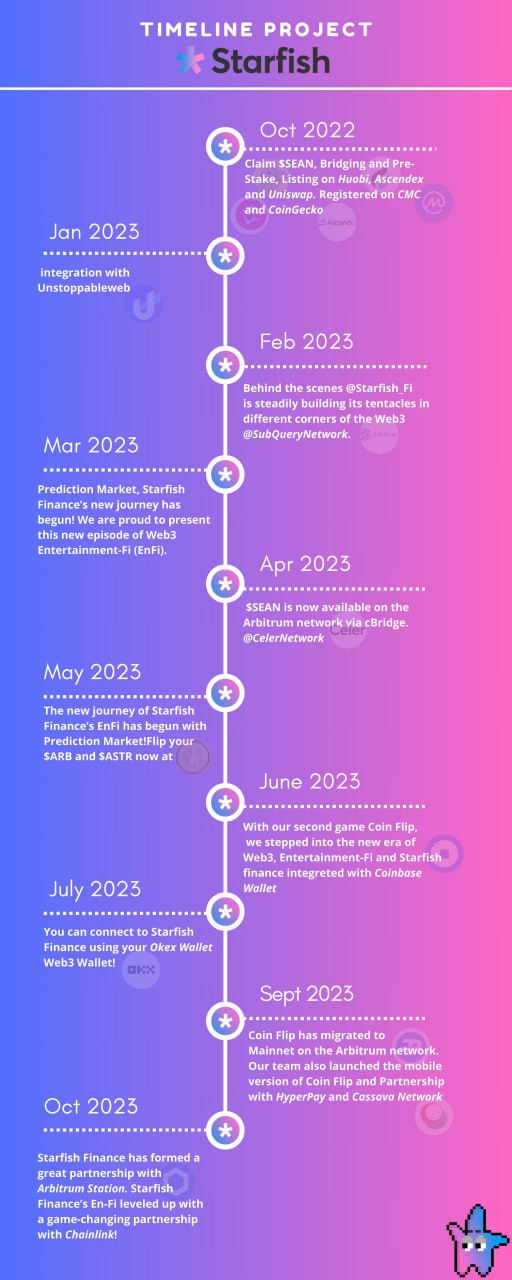 In essence, Starfish Finance emerges as a dynamic force in the ever-evolving DeFi and NFT space, offering a playground where finance meets entertainment, and users are empowered to shape the future of the ecosystem through active participation and governance.